The Eye of the Falcon is the second novel in a series about Muslim Spain, set in the Andalusian city of Cordoba.  By the end of the 10th century Al-Andalus was a rich and peaceful country, but when the Omayyad caliph died and left an eleven-year-old son as his heir, things began to change.  The eventual disintegration of that powerful dynasty had begun.
The young caliph was imprisoned in his beautiful palace, isolated and cut off from the Royal Court, while his ruthless regent and his ambitious mother battled over who should rule. The Eye of the Falcon is a novel of intrigue and murder set at the end of Muslim Spain's Golden Age, rich with the historical details of an exotic way of life, long disappeared.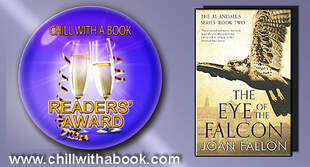 The Eye of The Falcon received the 'Chill with a Book' 5* award in October 2017.