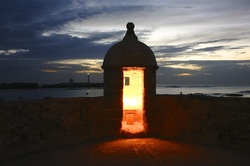 Some years ago we decided to mark our wedding anniversary by going away for a few days rather than the usual dinner out and a present that neither of us needed. It soon became an annual event and this year we went to the newly rebuilt Parador in Cádiz, designed by the Galician architect Luis Collarte. We live just outside Málaga and enjoy visiting the surrounding countryside, which often means driving down to Tarifa or across to Jerez de la Frontera, so we know the area well. But, although we have driven past or around Cádiz many times we have never taken the time to stay there. The entry to the city is via what can only be described as a causeway – there is sea or salt flats either side of you. Cádiz is a very old city; according to Wikipedia, it is the oldest, continuously inhabited city in Spain. Because of the scarcity of land, it is also densely populated. And there must be almost as many cars as there are people – the city is jammed with traffic and parked cars line all the streets, especially in the old town, where people are forced off the pavements to walk in the road. It was impossible to do the whole tourist thing, gazing up at balconies or through half-open doorways, stopping to look at statues etc without endangering one's life. In the end we made our way back to the sea wall and breathed the fresh Atlantic air once more.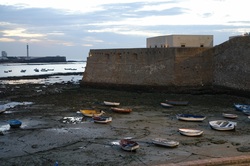 Like many Spanish towns, Cádiz seems to be looking for a modern identity in terms of tourism and I think it has decided to position itself as a centre of modern art. The Atlantic Hotel, as the Parador is called, has elected to be part of this. It is a beautifully designed building, with lots of rusty ironwork sculptures and carved wooden wall-dividers which make you think of ships and the sea. There are a lot of reflective surfaces, green marble, glass and shining tiles which give the building a luminosity that is in keeping with the capital of the Costa de Luz and everywhere there are interesting pieces of sculpture. If you like modern art, you will love it.
I am a historian and prefer to look for traces of Cádiz's history in its monuments, but even some of these have been taken over as repositories of modern art. One evening we wandered down to the Playa Caleta and went into the Castle of Santa Catalina. This carefully restored fort, which is built into the ancient sea wall, now houses artists' workshops and exhibition rooms.
Visiting any new part of Spain is not just about the scenery and its history, we also like to try the local dishes and wine. Naturally Cádiz, being so close to the home of sherry, has plenty of varieties to offer.
A walk round the food market is a great way to see how this part of Andalusia is very different from the Málaga area. There are crabs, almejas that are the size of oysters, tiger prawns, whelks, fresh cod and, of course, tuna. The proximity of the Straits of Gibraltar means that this part of the Atlantic coast is excellent for tuna fishing. I also discovered that every restaurant in the city had tuna on its menu – I never knew you could serve tuna in so many different ways. Sadly I only really like my tuna out of a tin, but I did try some dried tuna and it was delicious – very like Jamón Serrano.
So the question is, where to next year?