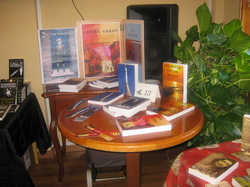 Being an ex-pat living on Spain's Costa del Sol, it's nice from time to time to get together with other ex-pats and the
Costa Women
's group is great for that. It's an opportunity to meet women from all walks of life and of a wide range of nationalities – Brits, Scandinavians, Finns, Germans and, of course, Spanish. Last Saturday was
International Women's Day
and Costa Women helped to organise a charity fair at the
Tamisa Hotel
in
Mijas
. It was to raise money for the Mijas Women's Refuge – a worthy cause. It was well attended by both visitors and participants. What a wealth of talent there is along this coast – there were women who painted, who made beautiful knitwear and others who made jewellery, beside those that baked cakes and made wonderful jams and chutneys. The cake stalls were my favourite and I couldn't resist buying a few delicious cup cakes to take home for tea – each one different and a work of art.
I had gone along to the fair as a participant, with two other local authors,
Jane Harlond
and
Lorraine Mace
, to display my books in Authors' Corner, as we nicknamed it. We had plenty of interest in our work and chatted to a lot of nice people; we got rid of quite a few bookmarks and business cards but actually made few sales. Chatting later we came up with two observations – most people like to buy ebooks these days; they find them more convenient and cheaper to buy. The other observation was more surprising – at least half the women that we spoke to did not read. Yes they read a book if they were on holiday but most had neither the time nor the inclination to pick up a book, never mind buy one. It left us both surprised and depressed. Lifelong readers of the written word, we found it hard to understand that not everyone felt the same as we did.
The first book I ever published was
Daughters of Spain
, a true account of what life was like for women in Spain during the Franco years. As I chatted to the women who stopped at our Authors' Corner, I felt how appropriate it was to be there on International Women's Day and how far we women had travelled since then.