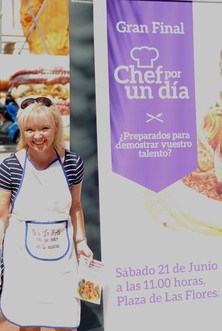 Good morning Debs. Welcome to Authors
'
Corner. I know that you live in Murcia. When and why did you move to Spain and what is it that attracted you to this part of the world?
I moved to Spain over 9 years ago now with my husband Marcus after 3 years searching for the right place. We bought our land and cave house in 2002 and moved to La Murta in Murcia in 2005. We visited Spain for a few years looking for our perfect place – we almost bought in Extremadura and the Alpujarras before settling on the mountains in Murcia. For us it has all that we wanted – it's remote (we're both very noisy!), not at all touristy (the village has 101 people and we're the only foreigners), with wonderful, wild countryside and still close enough to the sea to indulge our scuba diving interests.
That sounds wonderful. So, having spent some time looking around the country do you have a favourite city or region in Spain?
It's so difficult to choose, but we adore the city of Cartagena here in Murcia. It's a port city with the most fantastic architecture and more historical remains than any city I've ever visited. It also has an excellent food and drink scene – very important for me!
You co-edit a very interesting on-line magazine for ex-pats in Spain. Can you tell us something about it?
Our
www.NativeSpain.com
website / magazine has been around for a few years and is our place where we share our favourite places to visit, restaurants, walks, beaches and of course recipes!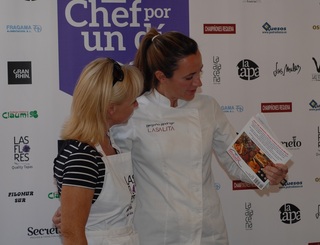 Debs' apron says "Si a La Murta vas, sin comer no te vendras" – basically if you come to La Murta you don't leave without eating – it's our village motto.

You seem to be very fond of cooking. Is this something you have always been interested in?

Well I've always been interested in eating (!) resulting in over 20 years being obese which I've almost got under control 😉 I've also always been keen on entertaining people and that usually includes feeding them (I also used to be a stand up comedienne, but I don't think I was very entertaining then!), so I had to get OK at cooking and developed some interesting recipes.
I have to admit I don't like following recipes myself and prefer to start with a recipe and then make things up as I go along.
Living here in La Murta I had to quickly get used to cooking for large groups of people – when we entertain our friends and neighbours there are often upward of 30 people. We built a special outdoor kitchen to accommodate the need for "catering" for them.
Whenever I've travelled I've booked myself on cookery courses – Thailand, Hong Kong and Yorkshire (!) to name a few exotic places.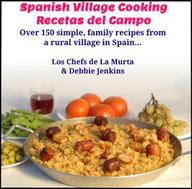 I know you have written and published a super dual-language cookery book called
SPANISH VILLAGE COOKING
. What inspired this particular book?
We've been on the fiesta committee four times for our small village over the nine years we've lived here and each year it's been more difficult to raise funds to pay for the fiesta we have in May. The committee needs to raise quite a few thousand euros to pay for the party. So we decided to make something that the committee could sell that would make money. Also, very selfishly, I have eaten at so many of our neighbours homes and had awesome food, and none of it was documented anywhere, so I wanted the recipes!
I went down to our local bakery (we have 3 in our tiny village) and asked the owner did she think the chefs of La Murta would be interested in cooking their favourite dishes and letting us photograph them and of course taste them? Within a week we were inundated with offers of food – heaven! By Christmas, just a month later we had over 150 recipes written up, many of them tasted and photographed.
By the middle of February 2014 I had typed up all the handwritten recipes, translated them into English and pulled the book together. We were selling it on behalf of the fiesta commission by March. In total we made over two thousand euros after costs for the fiesta for May 2014.

Then we were "volunteered" to be on the fiesta commission again! So, for our fiesta in 2015 we have already made profit of over two thousand euros. We need to sell more though. Every copy, Kindle or print, that we sell makes money for our fiesta – we love partying in La Murta.


Tell us about your working day? Does your schedule vary when you are writing or do you keep to a strict routine?
I have a strict routine because of our animals – the writing comes after the dogs are walked, the cats and chickens are fed and the horse has been ridden. Then I will cook something fresh for lunch before finally getting down to some writing.
Most days I will write or work on marketing all afternoon till about 7pm. I have lists of articles to write and books that I'm in the process of writing or updating. I use a tool called workflowy.com to manage all my ideas. I always have more things to write than time to write them.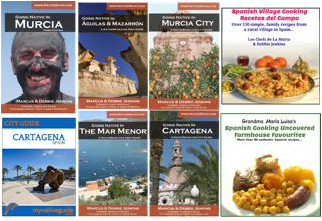 In the present climate, an author has to spend as much time marketing their books as writing them. How do you feel about that?
I started a business doing marketing and websites for clients back in 1995 – marketing has always been my first thought. If I don't think I can market (in other words SELL) a book then I won't write it. I have made mistakes and some of our books sell much better than others. One of the keys for me is having more than one book – that way each book can help sell the others.
Remember I'm a non-fiction writer – business books, guidebooks and cookery books – I think it's a little different for fiction writers that have a story they desperately want to tell. It's much more challenging for you guys. However, the principles remain the same – write something that people want to read and then let them know about it!
Which marketing tool have you found the most useful for your books?
My own newsletter is my best marketing tool. I forgot that lesson for a while and put my time and attention into facebook, twitter and social marketing. Which are all great tools, BUT, you don't own anything that happens on them and they are fleeting. If someone signs up to my newsletter I have permission to email them and communicate with them. If facebook suddenly decides that it doesn't like me or my business page it can decide not to show people what I'm doing – this has happened to lots of brands on Facebook.
Make your own newsletter, ask people to sign up to it and then communicate respectfully with them. My newsletter is here:
http://nativespain.com/shopping-malls-of-murcia-free-ebook-guide-to-shopping-in-murcia-cartagena/
please sign up if you are interested in Spain or Spanish food and want offers on my books!
Have you written any other books and what have you planned for the future?
I started off writing about marketing, with my first book being The Gorillas Want Bananas, a marketing book for small businesses. I've also written books about writing books!
My next books, probably in this order are: 4th Edition of Going Native in Murcia, Paleo Spanish Cookery Book, Holiday Cooking For Kids: Feed Your Kids When In Spain…
Thank you Debs for talking to us about your life and your books. If you want to know more about Debs and her website go to www.nativespain.com. It sounds a lot of fun living in La Murta.