The second historical novel in my blog tour is "
LOCAL RESISTANCE
" by JG Harlond and is set in World War II. Unlike many novels of this period, this is a crime novel set in a remote Cornish village. If you liked watching the TV series Foyle's War I'm sure you will enjoy this gripping story.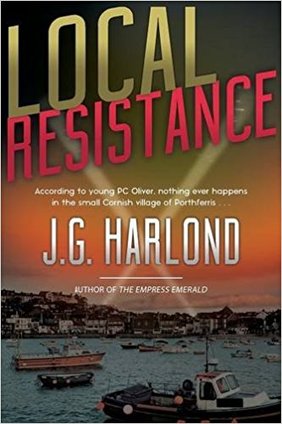 Local Resistance
by J.G. Harlond
World War II murder mystery

Porthferris is a little village with a lot of secrets,
some more sinister than others,
and one that could change the history of a nation
On a stormy night in March 1941, Maisie Rose Hawkins leaves her drunk husband, Stan, out in the rain–and he disappears. Detective Sergeant Bob Robbins and young PC Laurie Oliver are called out to investigate and discover that Stan's small fishing boat is gone, the rope sawn through. As Bob searches for answers, it becomes apparent that in this small Cornish village where everyone knows everything about everybody, nobody quite knows the truth.
Beneath the surface of village life, a fierce battle is being waged against wartime deprivations. Shopkeepers quietly evade rationing restrictions. Food inspector Archibald Bantry, charged with enforcing those restrictions, dies in a suspicious car crash. Various leads connect a sea cave full of smuggled black-market goods to the missing Stan Hawkins. And what seems like the work of local malcontents becomes more complex and dangerous when Bob stumbles on the truth in a disused copper mine, where a much deadlier affair is underway.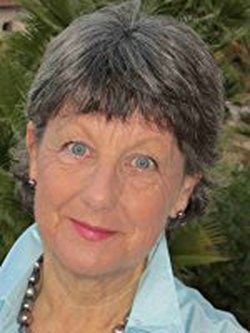 Author of 'Local Resistance', 'The Empress Emerald' and 'The Chosen Man' trilogy (work-in-progress) Harlond writes page-turning historical crime fiction that weaves fictional characters into real events. She is particularly interested in aspects of power; international intrigue and domestic politics are significant elements in her adult fiction. 'The Doomsong Sword', a novel for younger (and not-so-younger) readers, is based on part of the old Norse Volsung Saga.
'Dark Night, Black Horse' is a true short story about a young boy who rescues his father's favourite black stallion during the Spanish Civil War. This is now available in Spanish as 'Noche Oscuro, Caballo Negro'.
Harlond is a member of the Historical Novel Society and the British Society of Authors. Originally from the English West Country, she has travelled widely and is now settled in rural Andalucía, Spain.
Website: www.jgharlond.com