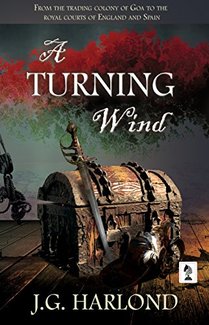 JG Harlond has a close affinity with the sea, having grown up in north Devon and this is plain to see in her second book in The Chosen Man Trilogy. As she openly admits, it took her two years to write A Turning Wind, but she feels it has been well worth it. It follows on from the adventures of the charismatic and roguish hero of The Chosen Man, the merchant Ludo da Portovenere. ​
From the 17th century trading colony of Goa to the royal courts of England and Spain, Ludo endeavours to fulfil dangerous secret commissions on his own terms, and for his own reasons. But as these tasks bring him closer to personal success, Ludo is forced to confront a secret of his own. Accompanying Ludo on her own highly delicate commission for the English queen, Alina, Baroness Metherall, faces challenges and dangers of her own. She, too, must confront a private secret.
As people in high places dictate their lives, Ludo and Alina have to decide to what extent the past should influence their future.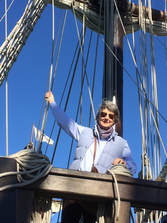 Harlond's brilliantly realised portrait of the sea-trade in 17th century is a gem. I loved the sweet-talking pirate Ludo, and his traffic in gems, spices and even Arabian horses. Impeccably researched, expect to be educated as well as entertained.
'
Deborah Swift: author of 'Pleasing Mr Pepys'
J.G. Harlond's plots play out in the complex and surprisingly sophisticated globalised economy of the seventeenth century. The scene may shift from India to Europe, and religious and political factors may bring nations to war, but commercial concerns always lie heavy on the mind of her protagonist and drive the action. Ms. Harlond details a credible, intricate world of deals and alliances, threats and opportunities, uncertainty and trust, in which her hero, the wily Genoese merchant Ludo da Portovenere, must tread with extreme caution. Let's hear yet more of him!Antoine Vanner: author of the "Dawlish Chronicles" series
Ms Harlond has already started work on Book 3 in the trilogy. Let's hope it doesn't take her another two years to complete because we're all impatient to know what ultimately happens to this likeable rogue who doesn't shy away from danger.
Available now from Amazon
​