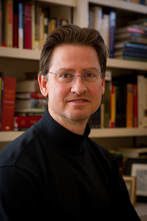 Good morning John. Well I suppose my first question is a little self-evident. How did a Schlumberger Chair Professor in the School of Electrical and Computer Engineering decide to become a historical novelist?
Thanks for having me, Joan, it is a real pleasure. Funny! Yeah, I get it. Professor and novelist? WHAT?! Not a typical combination, that much is certain. My training is in physics, and I am a professor of Electrical and Computer Engineering at Georgia Tech, where I lead a large research team focused on what comes next in the world of electronics and nanotechnology. BUT, for my entire life I have almost exclusively read fiction for pleasure, and have always dreamed of writing fiction since I was a kid. For me, fiction is one of the very finest and important forms of artistic expression. I wanted to be a part of that. Experience it firsthand, and engage both my imagination and creativity. It has turned out to be everything I dreamt of, and more!

Your first published book was in 2003 when Silicon-Germanium Heterojunction Bipolar Transistors was published. How did you progress from academic writing to writing a novel?
Beyond physics, my great love is history, especially medieval history (another crazy combination, I know!). After six non-fiction books, ranging from graduate and undergraduate level textbooks to books intended for general audiences, I decided to take the plunge and go after my first novel. A dream come true. Given my love of medieval history, writing historical novels was thus a natural fit. I have not looked back since!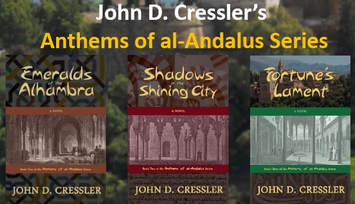 From reading your webpage I see that you have a very busy life, with family, work at Georgia Tech and numerous hobbies. How do you find the time to write historical fiction as well?
Hehe. Yep, way too many hobbies! Finding the time to write is always the challenge, and routine and constant contact with my characters is key. Fortunately, I was gifted with being an early riser and a morning person. Sunrise is when my creativity is highest! So I am up at 5:00am each morning, and after my shower, coffee, meditation/prayer time, and breakfast, I retire to my study, close the door, and step into medieval Spain. I am a consummate compartmentaliser! I write Monday-Friday from about 7:30am to about 10:00am. I then step out of Spain, close the door, and head to work. Fortunately, my graduate students are all late-nighters, so I still beat my research team into work! I find that writing five days a week for several hours a day is enough to move the story along. I am averaging a novel every two years or so, which I can live with.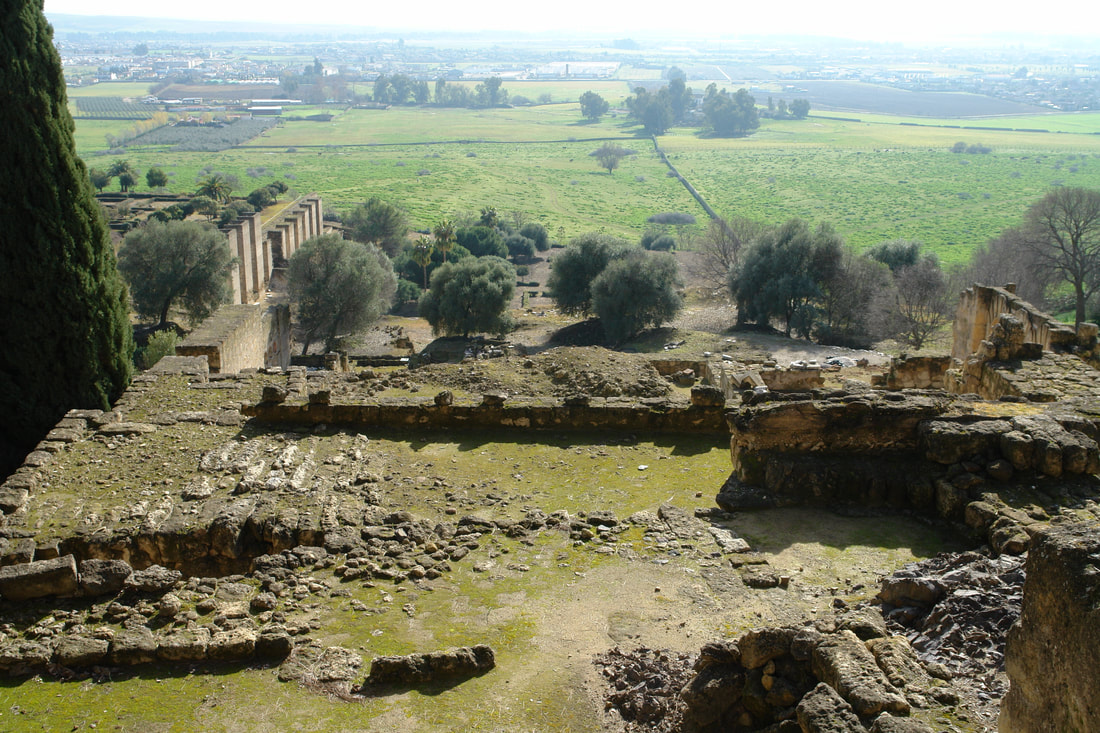 What was it about Moorish Spain in particular that appealed to you?
Simply stated, my ignorance of it. Loving history as I do, and knowing quite a bit about medieval Europe, somehow I missed the boat on the magic of Muslim Spain. Who knew?! I recall the day well when I was web-searching for a suitable location for my first novel and stumbled across 10
th
century Córdoba and Madinat al-Zahra. Riveting stuff, and a history I knew very little about. I was hooked, and began to devour everything I could lay my hands on. It was a joyful, exciting process doing the background research for my novels. Still is.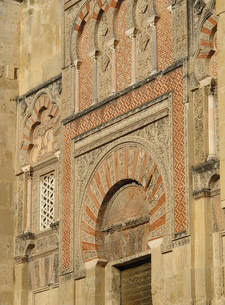 You live in Georgia in the USA, a fair distance from Spain. Did you do all your research through books about the period or did you have the opportunity to visit Andalusia?
For each novel I have traveled to Spain and spent 2+ weeks doing research on the locations I write about. Because my time window is narrow, I do all background research/reading/digging/plotting prior to the trip, so that when I arrive on location I am more focused on sensations which will aid my creative writing: sight-lines, sounds, the moon, the light, landscapes, architecture, and especially spending quiet time visualising the action I intend to write about, living the history of my characters. Being alone when doing this is key, so that I can seamlessly enter the creative zone, that magical zone of imagination, so to speak. My trips to Andalusia have been very special, one and all. I have been to Andalusia now five times.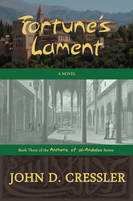 Your third book in the series was published in April.

Can you tell us a little about it.
Yes, Fortune's Lament was released in April. Hooray! This third novel took me almost four years (I had to complete a 2nd edition of one of my non-fiction books in the middle of writing), so it is deeply satisfying to have it finally out. Let me give some background on the time period in which I write, and then I will zoom-in on each of my three novels in the Anthems of al-Andalus Series. As you know well, much of modern Spain was under Muslim control for nearly 800 years (from 711 to 1492 C.E.). Medieval Islamic Spain was deeply influential in world history, for a multitude of reasons, including the rediscovery, translation, and dissemination of the lost works of medicine, science, and philosophy of the ancient Greeks. The Muslim Umayyads (with roots tracing back to Syria) were lovers of books and learning, and helped launch a cultural revolution in Córdoba, which transformed the western world. An exceptional 200-plus-year period of peaceful coexistence occurred between Judaism, Christianity, and Islam under Muslim Umayyad rule, providing a powerful lesson in the practice of multiculturalism for our twenty-first-century world. This time period was both deeply influential in world history and riveting, and I have fallen in love with all-things-al-Andalus! All three of my novels are love stories interwoven into this rich history.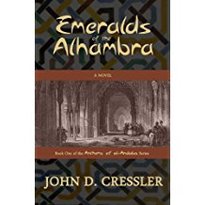 Emeralds of the Alhambra, my first release, is a love story set in the resplendent Alhambra Palace in Granada, Spain, during the Castilian Civil War (1367-1369 C.E.), a time when Muslims took up their swords to fight alongside Christians. Emeralds tells the story of William Chandon, a Christian knight captured and brought to the Alhambra to be used by the Muslim sultan as a political pawn, and the Sufi Muslim princess Layla, daughter of the sultan's chief counsellor. As Chandon's influence at court grows, he becomes trapped between his forbidden love for Layla and his Christian heritage, the demands of chivalry and political expediency. Chandon and Layla must make choices between love and honour, war and peace, life and death, choices which ultimately will seal Granada's fate as the last surviving stronghold of Islamic Spain.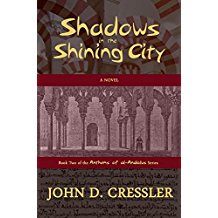 Shadows in the Shining City, my second release, is a prequel to Emeralds of the Alhambra, and immerses the reader in Islamic Spain's Golden Age. Shadows tells the story of the forbidden love between Rayhana, a Muslim princess of the royal court, and Zafir, a freed slave. Young love blossoms in 975 C.E. in Madinat al-Zahra, the Shining City, Caliph al-Hakam II's magnificent royal palace located just outside of Córdoba. Their love story is set against the backdrop of the epic rise to power of Rayhana's ruthless father, Ibn Abi Amir, a man history will come to both celebrate and revile for the role he plays in the collapse of Islamic Spain.

Fortune's Lament, my latest, is again set in Granada, 120 years after Emeralds of the Alhambra, and sets the stage for the final collapse of Muslim Spain. It tells the story of Danah, a young Muslim woman who aspires to be the first female physician in the city. Love unexpectedly blossoms between Danah and Yusef, a valiant prince of court from a rival clan, during the bloody final conquest of Granada by King Ferdinand and Queen Isabella of Christian Spain. As the light of Islamic Spain dims, the Inquisition looms large on the horizon, as does the coming voyage of Columbus to discover the Americas.

Do you plan to write any more books in the Anthems of al-Andalus series?
​
Most definitely! There will be a sequel to Fortune's Lament, and I am set to begin writing, hopefully this month. Can't wait! The sequel will complete the story of Danah and Yusef, and the final collapse of al-Andalus. Beyond that, who knows?! BUT, I am having great fun, and there are 800 years of riveting history to choose from, so we'll see what comes next!
Thank you so much for talking to us John and sharing the secrets of your writing life.
To find out more about John and his books you can visit him on social media:
​
http://johndcressler.com
https://www.facebook.com/BooksByJohnDCressler/
@JohnDCressler
​
As a thank you for taking an interest in his books, John has generously offered to give away a Kindle version of one of his novels to the first TEN people who leave a comment on this post! So, please do let us know what you think and don't forget to INCLUDE YOUR EMAIL ADDRESS so we can send it to you

and which one of his books you would like to receive.