My last book for this week is a real page turner. Set in Iceland it is based on the true story of Agnes Magnusdottir. BURIAL RITES was written by the Australian author, Hannah Kent as part of her PhD thesis.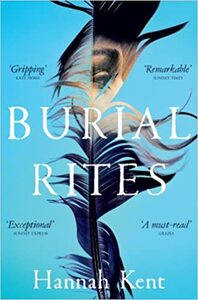 SHORTLISTED FOR THE BAILEYS WOMEN'S PRIZE FOR FICTION 2014.
SHORTLISTED FOR THE 2013 GUARDIAN FIRST BOOK AWARD.
Set in Northern Iceland in 1829.
A woman is condemned to death for murdering her lover.
A family forced to take her in.
A priest tasked with absolving her.
But all is not as it seems, and time is running out:
winter is coming, and with it the execution date.
Only she can know the truth. This is Agnes's story.
A fascinating glimpse of Icelandic life in 19th century, interwoven with myths and legends that still influenced the islanders way of life and attitudes. This is more than a crime novel.