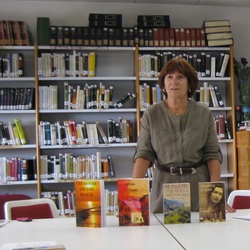 I've always loved libraries. I was five when my parents enrolled me in the local library in Felixstowe and for the next ten years it was my favourite place. I still remember that barely contained excitement each time I walked home with my three new library books in my arms (three was the maximum the librarian would allow me). I couldn't wait to start reading them. As the years passed I moved from the children's section, where I had devoured everything from CS Lewis to Enid Blyton, to the adult section and discovered a whole new world of authors: Ray Bradbury, John Steinbeck, Hemingway.
So when Marja Tähtinen, of the
Biblioteca Nordica
in Fuengirola asked me to speak to a group of library users at their Open Doors week, I was delighted to accept. In these days of shrinking library readership and the inevitable closure of many of our beloved libraries, I was only too happy to support them. The Biblioteca Nordica, the brain-child of Marja herself, is dedicated to books written in Finnish, Danish, Swedish and Norwegian. It is part of the municipal library in Los Boliches, Fuengirola, where there is an excellent collection of books in English and Spanish.
There was a small, but enthusiastic, turnout to listen first to
Raija Oranen
, a Finnish author, who spoke in Finnish, of which I understood not a word, then to me. Luckily the Finns are excellent at other languages and I was able to speak in English. I was interviewed by another local writer,
JG Harlond
author of the best-selling The Chosen Man. If Jane decides to give up writing I think she should turn her hand to being a professional interviewer. She has an excellent way of drawing things out of you.
The Open Doors week continues until 19th October with a variety of activities. It's worth popping in, if only to meet the effervescent Marja Tähtinen (pictured on the left).