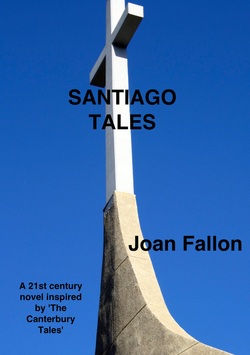 Back in October I blogged about how I came to write my latest novel SANTIAGO TALES and where the idea had come from. Now, at last, I have published it as a Kindle ebook.

Writing a novel is the easiest part for me. The hard work comes when your work has to be edited, and repeatedly proof read. Luckily I have a few kind friends who are always willing to help with the proof reading but it never ceases to amaze me how easily simple typos and spelling mistakes are overlooked. Most of my books get read a dozen times before they are ready to publish.

A fellow author and member of Costa Women, Karen McCann, also kindly gave me an endorsement for the book. You can read it below:

'Joan Fallon's new book, Santiago Tales, lets you walk 790 kilometres in the shoes of a modern-day pilgrim on the ancient Way of St. James across northern Spain. Her book illuminates the entire experience, from bedbugs and blisters to the camaraderie of the hostels and long days of solitude and contemplation. A must read for anyone considering walking the Camino, or for armchair travellers who want to immerse themselves in the 1000-year-old traditions of this spiritual journey.' Karen McCann, author of 'Dancing in the Fountain'

I will be publishing a paperback edition of SANTIAGO TALES at the end of the month. This will be available on Amazon and in bookshops.

So many thanks to all my friends and acquaintances who made this book possible and I hope they are looking forward to the next one.