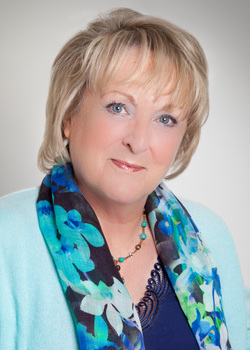 AUTHORS' CORNER talks to best selling historical novelist
Ann Victoria Roberts
Good morning Ann. Welcome to Authors' Corner. You've been a successful novelist for many years now, tell us how you came to become a writer.
At the moment I'm completing a memoir,
Life & Luck
, which answers this question in full. But briefly, as a teenager I discovered a family diary written in 1916 by a young Australian soldier. I was so caught up by the detail – and the tragedy of his death a year later – I went home and immediately started my first attempt at research into WW1. I also started writing a story about him – all this while I should have been studying for exams!
It was never finished, but twenty years later, when I was married with children and my husband was away at sea, I started writing and researching in earnest. My original idea was diverted by details of the soldier's background, and it eventually became two novels –
Louisa Elliott
, his mother's story set in 1890s York, and
Liam's Story
, which takes up the Elliott saga in modern times, while the past comes to life through old photos, letters, and a diary… A recent reviewer describes the book as, 'a contemporary love story wrapped around an historical novel' – such an apt phrase, I wish I'd thought of it!
What is it about writing historical fiction that you enjoy most?
History has always fascinated me – as a child I spent a lot of time in York, where history stands on every street corner, and even road-works become archaeological digs. My reading matter then was largely classic fiction, so you might say I was absorbing history without being aware of it. Nowadays I enjoy discovering what was going on in the world at the time, and how it might impact on my characters and the plot I'm constructing. I feel comfortable 'in the past', and my writing style is quite formal, so historical fiction suits me best.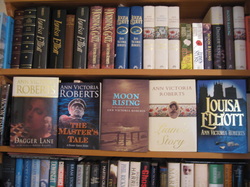 I see that some of your characters are real people – the master of the Titanic for example. Does that present any problems when you insert them into a work of fiction?
Well, you do need to be sure of your facts. Having started out with real people – my forebears – I found that facts form a skeleton, around which the novelist can build the flesh of possibility. But their lives – and the facts – must be respected. The public figures I've written about – Captain EJ Smith in
The Master's Tale
, and Bram Stoker in
Moon Rising
– are fascinating people simply because not a great deal is known about them. Researching their lives was a lengthy process – but I like to think that in reconstructing real events in fiction – and interpreting their actions – I've cast a revealing light on them as human beings.
I notice on Facebook that you are republishing some of your books as ebooks. How has this worked out?
My first two novels are now available as ebooks and will be in print again this year. As I'm now my own publisher, everything is down to me – and I must say it's far harder work than simply being a writer! The ebooks are selling steadily, and making
Liam's Story
free for a few days in January generated about 1500 downloads, mostly from the UK. The reviews are coming in now and I'm hoping that this will generate more purchases of the ebooks, and also the print books to follow. And of course my upcoming memoir,
Life & Luck
.
In the present climate, an author has to spend as much time marketing their books as writing them. How do you feel about that?
Marketing is the bugbear! It takes up a lot of time and I'm aware that I'm not good at it. A traditional publisher employs at least half a dozen people to get a book into the marketplace – including editor, cover designer, publicity people, sales team, and marketing experts. And we indie writers/publishers are trying to do the whole lot ourselves! I employ a cover designer and technical expert already – and feel I should consider employing a marketing person too. But I know nothing about marketing, so it's impossible to judge quality v cost. Hence still doing it myself – badly!
Which marketing tool have you found the most useful for your books?
Hard to say, Joan. After many years I've just started giving talks again – and I'm sure this is the way forward. It's getting the word out there in a very personal way.
Most useful so far, have been blogs on the website –
https://www.annvictoriaroberts.co.uk
Currently I'm blogging extracts from
Life & Luck
, and some traveller's tales which haven't made it into the memoir. When the children were young, we spent a lot of time at sea with my husband, and these stories are proving popular. I promote them on Twitter and Facebook, and it's a good way of interesting people in my writing, rather than just shouting, 'Buy my Book!'
I use Linkedin too, although to be honest, Linkedin feels like a black hole to me. As does Goodreads – I find it a difficult site to navigate. As for joining 'groups', I've tried that on Linkedin, and am not sure how useful it is. I read and contribute when I have time. Much prefer Facebook to all the media groups – I find it sociable and entertaining. Whether it sells books is another matter!
I can agree with you there. So where is the best place for readers to look for you?
You can find me on Facebook: https://www.facebook.com/AnnVictoriaRoberts#

Twitter: https://twitter.com/Ann_V_Roberts#

So, tell me Ann, what are you working on now?

I'm completing Life & Luck, which I thought was 'ready to go' a month ago. But having sent it to reader friends for their responses, I find they want me to include a 'bad luck' episode to counterbalance the 'good luck' which came with the publication of my first two novels. That's been a surprise – and a difficult one to address – but I'm including it anyway. Currently re-writing and looking for knock-on effects.


Once the memoir is on its way, I'll be able to get back to the novel I started over a year ago. It's an English Civil War novel, set during the Siege of York in 1644. A completely different period for me, so I hope it works out.

Both books sound fascinating and we can't wait to get a chance to read them. Thank you for taking the time to talk to us, Ann and good luck with your new books.