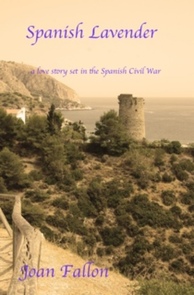 It was when I was interviewing women for my book
Daughters of Spain
that I first heard about the massacre on the road between Málaga and Almeria in February 1937, early in the Spanish Civil War. I was so astonished with what one woman had to tell me that I broke off my research and began writing my first novel,
SPANISH LAVENDER
. It is the story of Elizabeth, an English woman who decides, against all reason, to stay in Spain while her family flee, with the rest of the ex-pats living there at the time, to Gibraltar. She finds herself journeying with other refugees to Málaga but instead of finding safety, she finds a city abandoned by the people supposed to be protecting it, its people dying of starvation, its buildings in ruins and in imminent danger of attack. She meets a young Spaniard, who befriends her and they fall in love. Together they decide to join the exodus of men, women and children who are trying to reach the Republican zone in Almeria. On the way they are bombed by cruising battleships and Juan is injured. In the ensuing chaos Elizabeth and Juan are separated and, believing he is dead, she escapes to England. It is not until seventy years later that her granddaughter uncovers the truth of what happened to Elizabeth's lover.
Essentially a love story, SPANISH LAVENDER is available in paperback and in all ebook formats.