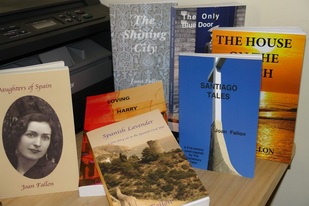 I have been writing full time for eight years now but have had no luck finding a traditional publisher, so a few years ago I decided to self publish and I haven't looked back. For those of you who are considering going down this route I'd like to say that it is a whole lot easier and cheaper than you might first imagine.
Publishing an ebook is very straightforward because Kindle Direct Publishing walk you through the various stages that you have to complete. Having said that, if you want the format of your finished ebook to be perfect it is a good idea to read the guidelines for publishing ebooks with Smashwords – they are very strict about what they will accept but it does mean you get a much better ebook at the end of it. The only difficulty you may discover is designing the cover that you want to upload. For this it is useful to have something like Apple's Pixelmator or a similar graphics package on your computer.
Publishing a paperback is a little more complicated but very achievable. Formatting the book is relatively straightforward if you have a decent word processing package – I use Apple's Pages – and you can look at your existing paperbacks to see how you want your book to look: size of the book, size of font, line spacing, width of the margins, headers or footers – you can choose. My first attempt at publishing a paperback was with Createspace who, like Kindle, take you through each stage step by step. However this was back in 2011 and, after my book was published, I realised that Createspace didn't distribute in the UK only the USA (this however has since changed). So I looked at what else was on offer and went with Lightning Source. LS make a charge but it is minimal – it costs me roughly £75 to publish a book and they will send the details of it to all their distributors. They provide you with a template so that you can design your cover to the exact requirements for the printing process and check everything thoroughly before it is accepted for printing. Each time you order a book or sell one through the distributor, LS charge the cost of printing, which varies according to the specification.
So far so good. There are a few pitfalls to look out for: the first is that nobody checks your spelling and grammar – and it is no good thinking you can rely on a computer to do it for you. You need to have someone proof read your book before you publish it. But more important than that is the need to have an editor. Asking friends to read it and give you their opinion is not very useful; they will never tell you the truth and even if they do, it is unlikely that they will be able to give you any constructive criticism. You have to bite the bullet and employ a professional editor then you will see what a difference it can make to not only your book but to your self confidence.
One further point is about ISBN numbers. These can be bought from a number of companies; I buy mine from Nielsen's, in blocks of ten at a cost of roughly £100. You may think that you don't need ten ISBN numbers but then you find out that you must have a separate ISBN for a Kindle ebook, another for a Smashwords ebook and a third for a paperback copy of the book.
Self publishing your first book takes time and effort but there is nothing to beat the pleasure you feel when you hold a copy of that book in your hands.