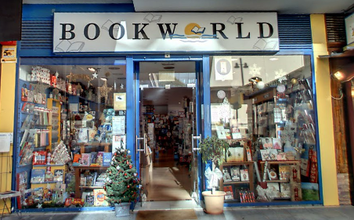 Happy New Year to you all. I hope 2020 brings all that you could wish for.

As far as I'm concerned it can't be worse than 2019 when I lost my husband, my best friend of almost thirty years. So for me this last year has been a time of readjustment which included selling my house and buying another one all within the space of a month. Pretty exhausting but it certainly is nice to have it all over quickly. So why am I telling you all this? Well, it's to explain why I have decided to have a book launch for my latest historical novel, The Pirate, even though it's been available for sale since November. There just hasn't been time (or the inclination) to do it before.
The launch and book signing of The Pirate has been arranged for 21st February at 17.00 in the Bookworld bookshop in Puerto Banus. ( Edf. Marina Banús 1-2, Calle Ramón Areces, Local 15, 29660 Marbella, Málaga) I hope all of you that live in the area will pop in to say hello.
BookWorld in Puerto Banus is an excellent bookshop with a wonderful range of stock, but it is one of a dying breed – an English bookshop in Spain. When I first starting writing, 14 years ago, there were a number of BookWorlds, in Velez-Málaga, Fuengirola and Marbella. There were two excellent bookshops in Gibraltar and quite a few others in the area. They have all closed. The rise of ebooks has contributed to that. I know from my own sales that most people buy their books in ebook format; they are cheaper, easier to carry about and they are always to hand. But some readers still like the feel of a book between their fingers. There is a substance to it that makes one read more carefully, with more attention. It is easy to skim over a digital text but somehow the printed page makes one slow down.
Having just moved house, as I mentioned, I was faced with how to home my thousand or so books. 'Get rid of most of them,' my well-meaning friends advised. 'You're not going to read them all.' 'Give yourself more space.' They were being sensible. Some of the books were the original Penguin paperbacks, orange, battered, their pages yellowed and covered in dust. Many of them had belonged to my parents, some containing loving wishes for a Christmas or birthday-no birthday was complete without a book as a present in our home. But how could I explain to them that it would be like throwing out old friends? My books are not just paper and ink; they are unique worlds, each one containing a dozen different characters. As I tried valiantly to organise them into their reduced space, I realised that I would sooner have untidy bookshelves than empty ones. Now the last of the boxes has been emptied and the last book stacked. Only one problem, will I ever be able to find the book I want when I want it? My only solution had been to sort them by size! So if I want a particular novel by Ian McEwan, I need to remember its dimensions!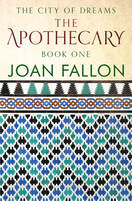 A quick reminder about this new trilogy, THE CITY OF DREAMS:
It follows on from the al-Andalus series but with a new generation of the family taking the stage and an explanation of the political developments in the country. This time the action is set in the popular city of Málaga. Although Málaga doesn't have such international cultural fame as cities such as Córdoba and Granada, it has an equally rich past and every day new archeological discoveries are coming to light. Only recently the workers on building the new Metro found the extensive remains of some ancient tanneries.
In Book 1 'The Apothecary,' we meet up again with the younger members of the family who had escaped from the besieged city of Córdoba.
Makoud, now a middle-aged apothecary, has come to Málaga with his family to work. Shortly after they arrive they hear of the sudden death of the caliph Yahya I and rumours that he was poisoned. Makoud is worried that the poison used by the assassins was bought from his shop. His son, Umar, now a soldier in the caliph's army, decides to investigate but he underestimates the power of the people behind the assassination, and instead he finds himself accused of murder and locked in the dungeons. His father, family and friends pool all their resources to try to help him but the closer they get to the truth, the greater the danger they are in.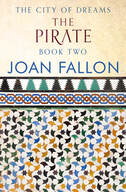 In Book 2 'The Pirate,' Bakr, the shipbuilder is kidnapped by pirates. It was interesting for me to research pirate life at the time and work out the sorts of places that they would hang out when they weren't at sea. (I owe a debt of gratitude to the excellent book Pirates by Helen Hollick for much of the information I gleaned about pirate ways.)
This fast moving and exciting historical novel takes the reader into the medieval world of the merchants and seafarers who sailed along the western coast of the Mediterranean, and the pirates who terrorised them. Early one morning, the ambitious pirate captain, al-Awar, makes a lightning raid on the shipyard in Málaga and kidnaps Bakr, a master shipbuilder, and two of his workmen. Before anyone can do anything about it, they have disappeared. No-one has any idea why the pirates have taken them or where they have gone, but everyone agrees that only one of two fates await them: death or slavery.
​
In Book 3 'The Scribe,' we meet other members of the family and the story continues. Book 3 should be out in the Spring. Unless I decide to rearrange my bookshelves again. The Dewey system maybe?